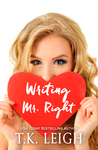 Writing Mr. Right
by
T.K. Leigh
My rating:
5 of 5 stars
** I received an ARC in exchange for an honest review. **
I have loved everything T.K. Leigh has written to date and Writing Mr. Right is no exception. Whether she publishes a romantic suspense or a romantic comedy, she makes me feel a wide range of emotions. My emotion roller coaster was up and down with this one.
I know people who feel as Molly does about love. I felt like I was also one of her best friends along on the journey as she matured and faced the heartache of her past. I absolutely love Noah as the male main character in the story. This book had the perfect mixture of laugh out loud moments and get teary eyed moments. Another must read by the fabulous T.K. Leigh.
View all my reviews